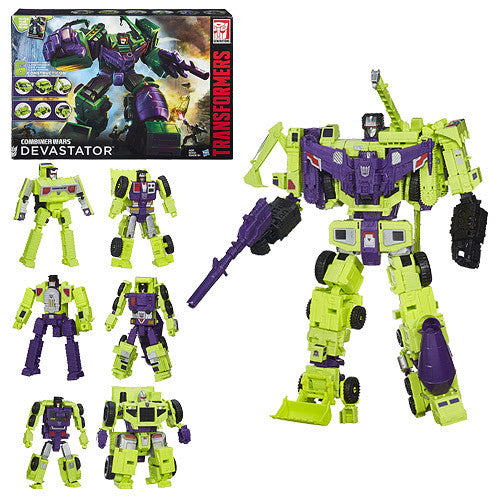 Hasbro
Transformers Combiner Wars Titan Class Devastator
Transformers Generations Combiner Wars Devastator Set:
Build a giant 18 inch tall Devastator
Includes all Constructicons Hook, Bonecrusher, Mixmaster, Long Haul and Scrapper!
Chest ornament splits into three smaller pieces, giant blaster splits in two for the smaller Decepticons and character card included!
Constructicons, merge for the kill and become the mighty Devastator! become This set includes and unites all six of the constructicons in one place. Each figure is rendered in incredible detail and features impressive conversion from robot to construction vehicle and back. But that's just the beginning, the six Voyager Scale figures combine to form the ultimate Decepticon weapon the mighty Devastator, the largest combiner! The 18-inch tall mega robot mode features a blaster and detail to delight fans young and old alike with much of it's inspiration from the original g1 origins. Includes 6 transforming robots with accessories.
Ages 8 and up.
---
Share this Product
---
More from this collection